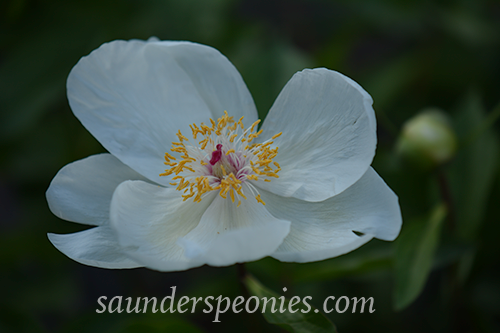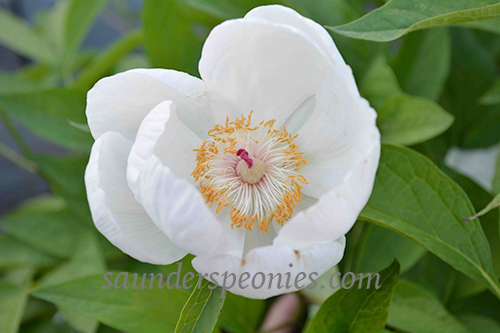 Still searching for the identity of Elizabeth Cahn.
Mary Judson Averett of New Jersey was not impressed with its 5 days of bloom in 1948 (National Horticultural Magazine, vol 27, p.109) "the time from the opening of the first bud to the dropping of the last petal was only five days."
What she wrote is definitely accurate.  It is an early bloomer and easy to miss.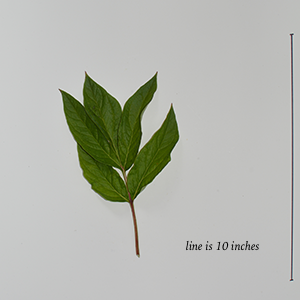 Cultivar:

Elizabeth Cahn

Year:

1942

Seedling No:

4931. Page 186 of Saunders' Notebook I

Parentage:

13: lactiflora X wittmanniana
Flower:

Color:

white

Form:

single (Saunders described it as twisted but I haven't observed that)

Blooms:

Week  2 or 3

Carpels:

2, pale green, woolly

Stigmas:

dark pink

Disc:

pink, obscure

Stamens:

filaments are white

Plant:

Habit:

bush

Foliage color:

medium green,  red stems

Foliage form:

pointed leaves, infolded

Height:

22″ in 2021; 21″ in 2022
| | |
| --- | --- |
| Recommendation: | Collectors' plant |
| Availability: | Few specialty nurseries |