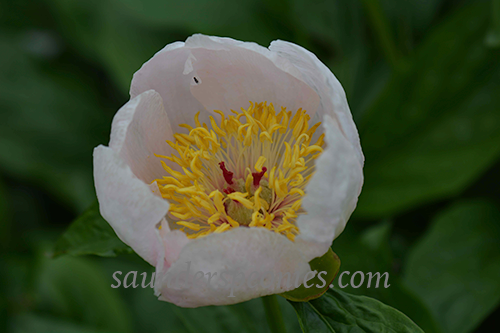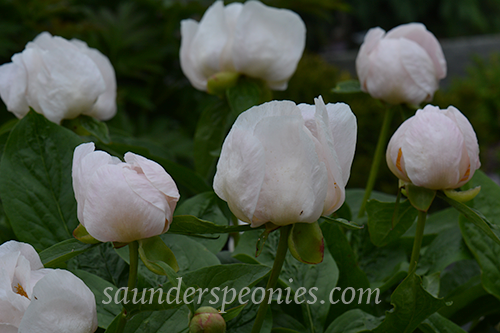 'Early White' did not bloom in 2020, likely due to a late frost but it is usually covered with abundant flowers held above the foliage. I am really not sure of the origin of this plant as this name does not appear in any of the Saunders' catalogues or notebooks.
I recently received some material from the estate of Peggy Goldsmith. It confirms that she gave this peony the name "Early White" but thought that the original name had been  lost.  
It does not appear to be identical to any other Saunders peony in my collection, nor is there an obvious match to any that I am missing.
Cultivar:

Early White

Year:

never registered

Seedling No:

not known

Parentage:

not known, looks like macrophylla heritage
Flower:

Color:

pale pink fading to white

Form:

single, one row of 8 petals

Blooms:

Week 3

Carpels:

3, light yellowish green

Stigmas:

red

Disc:

[DISC]

Stamens:

filaments slightly red at base shading to near white

Plant:

Habit:

rounded bush

Foliage color:

medium green

Foliage form:

medium leaves

Height:

[HEIGHT]
| | |
| --- | --- |
| Recommendation: | Collectors' plant |
| Availability: | May not be available; purchased from a now-closed nursery |