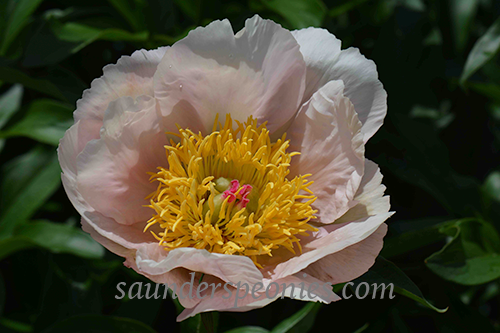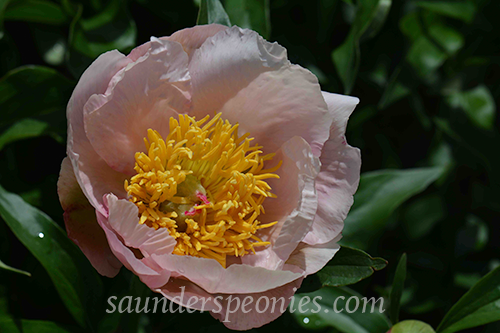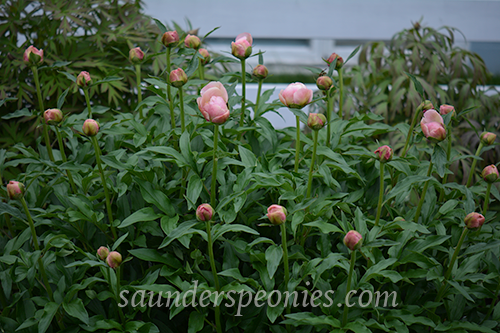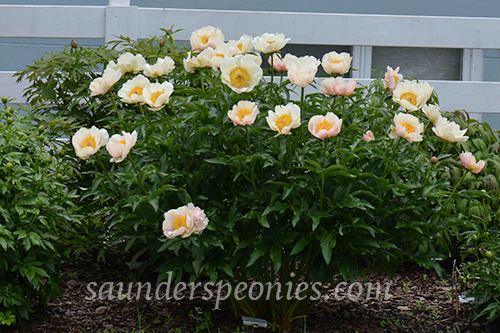 The peony I have (in the photos) was distributed by Reath's Nursery as 'May Music but in preparing the information for this website, I realized mine neither fits the description of 'May Music' nor matches the photo of 'May Music' supplied by Don Hollingsworth in the online APS Registry. Don dubbed it "false May Music", an apt designation.
What I have is an absolutely charming plant whose identity I am trying to establish.  One possibility is 'May Morning'.  The names would be easy to mix up. 'May Morning' does not appear in the registry on the APS website but it was registered with APS in 1950 and described in the 1950 Saunders Nursery catalogue as an F2 of tenuifolia X mlokosewitschii, an "exquisite creamy apricot, color of a tea rose."  An F2 with tenuifolia in its parentage might be expected to have finer foliage but it certainly looks like it could have mlokosewitschii heritage.
Perhaps a more likely possibility is it being the quadruple seedling No. 16234 which Silvia Saunders sold for several years under number (along with 16209 which David Reath registered as 'May Music' and 14400 registered as 'Sunglint'). It seems likely that Reath would have purchased all three.  No. 16234 is described in Silvia Saunders' notebook as having "peach tawny" flowers, late bloom,  light rose pink stigmas, a cream and gold heart, and "noticeably hairy stems and undersides of the leaves."  In 2021 I checked the stems and leaves and they have noticeable hairs, further strengthening the possibility that this plant is the Saunders seedling 16234.
Of course, it could be one of the "Quad F2's or F3's" only briefly mentioned in Silvia's notebooks, with no descriptions or seedling numbers given, or even one of David's own seedlings.  
It is likely this mixup is decades old as a couple of others have received the same plant under the name of 'May Music'.  If you have any insights, please let me know!