Peony Companions
If you want to make a late spring splash, combine peonies with plants that bloom at the same time such as Baptisia and Irises. I also like to use conifers as a backdrop and for year round interest although several have overtaken peonies and require that the peonies be moved.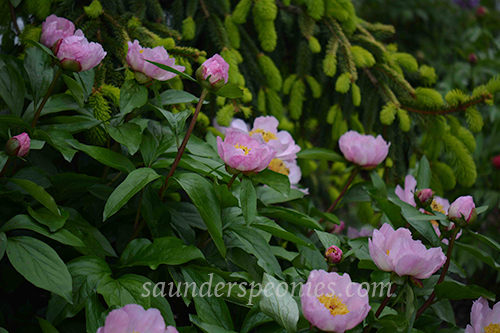 'Fantasia' in front of Picea abies 'Gold Drift'. Fantastic in 2020 but the spruce is now starting to overgrow the peony.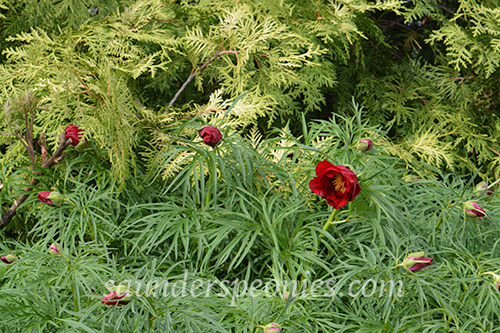 'Earlybird' in front of Thuja occidentalis 'Englightened'. Love the combination of feathery foliages.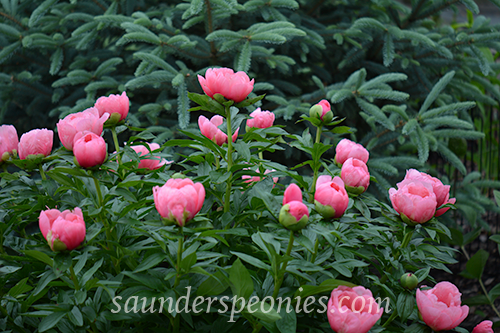 'Nathalie' with Picea glauca var. densata 'Whiskey Blue Hill'.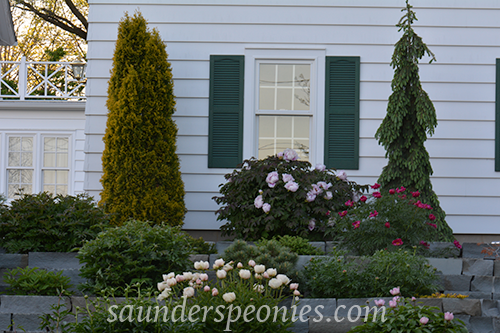 'Lady Gay' in full bloom with Thuja occidentalis 'Jantar' and Picea glauca 'Pendula' in the upper retaining wall along with the woody peony 'Ambrose Congreve' (Sir Peter Smithers, 1994).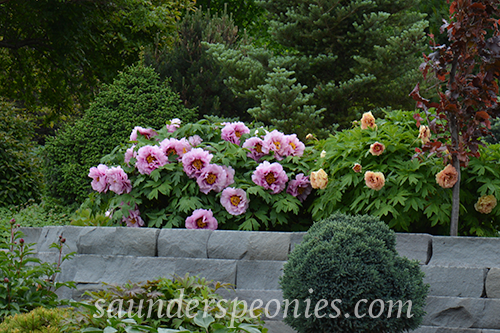 Well, there was supposed to be a Saunders peony in this grouping but it turned out that what I bought as 'Golden Mandarin' is likely 'Demetra' (Daphnis). The combination of its gold flowers with  'Wisteria Reflections' (Bremer) is stunning.  A Juniperus 'Blue Star' on a standard is in front and several other conifers are in the background.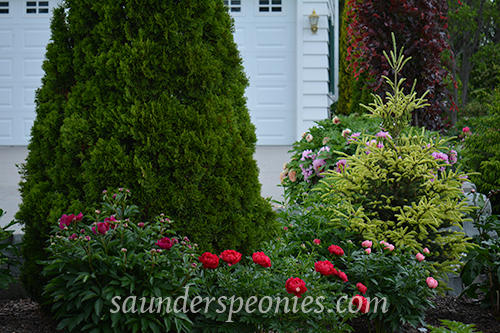 'Man of War' and 'King's Ransom', two rare Saunders peonies, are accompanied by a large Thuja occidentalis 'Smagaard' and a Picea glauca 'Mac Gold'.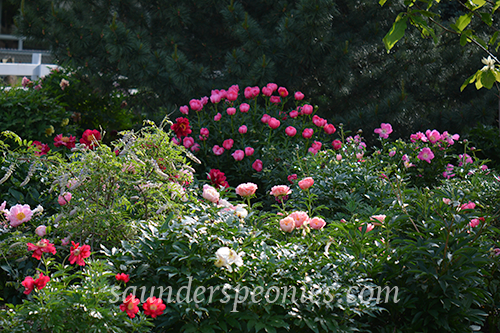 A mature Pinus koraiensis 'Morris Blue' provides a backdrop for the tall pink 'Skylark' and the shorter 'Honor'.  In the foreground is 'Legion of Honor' and 'Roselette's Child' with one bloom.  Also peeking out are some blooms of 'Postilion', 'Sugar N' Spice' (Rogers, 1988), and 'Rozella' (Reath, 1991).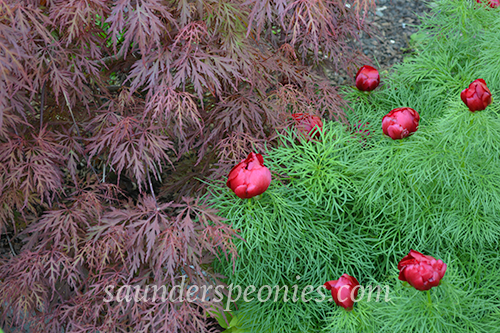 Another feathery combination: Acer palmatum 'Orangeola' and Paeonia tenuifolia.  Always an early spring hit!
Although I've searched far and wide to collect species peonies, this one came from a relative's Iowa farmstead.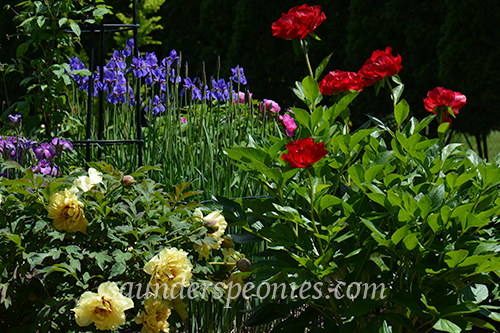 The rare Saunders peony 'Orion' contrasts nicely with 'The Mackinac Grand' (Reath, 1992) and Siberian irises.