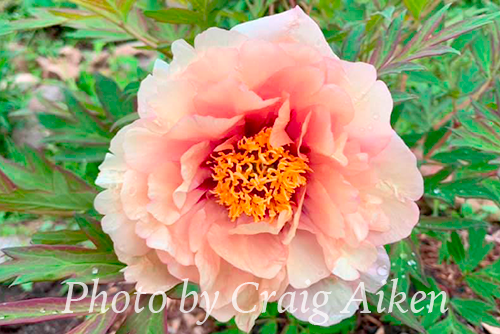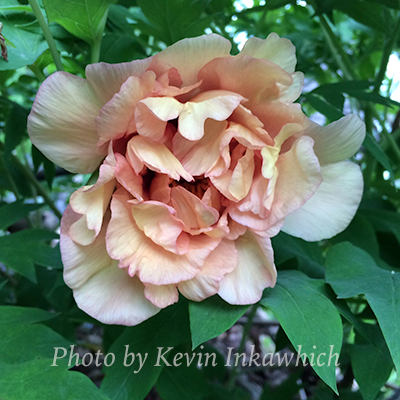 The photo on the right was taken at the Scott Arboretum in 2017. For some reason, my plant  is reluctant to bloom even though it is now 8 years old and in a fairly prominent location.  In 2021 it finally produced one bloom late in the season and I missed it.  
The other two photos were taken by Craig Aiken and Kevin Inkawhich at Hamilton College.  Thanks Craig and Kevin.  It appears that the Scott Arboretum and Hamilton College have two different plants.  Which one is correct and which one do I have?  Mine was obtained from an auction so I don't know its exact source.  
The foliage on mine is as described by Reath and Saunders so I am hopeful I have the right plant. However the foliage on the plant at the Scott Arboretum is different from mine, much more narrow.  Stay tuned!
Cultivar:

Damask

Year:

1941

Seedling No:

270

Group:

Tea Rose
Flower:

Color:

warm light gold with short dark plum flares

Form:

semi-double, 3-4 rows of petals

Blooms:

[BLOOM]

Carpels:

6, green

Stigmas:

light rose

Sheath:

"small, cream" (Reath and Saunders)

Stamens:

filaments red, shading to yellow, rather sparse stamens

Plant:

Habit:

low wide plant (mine)

Foliage color:

medium green

Foliage form:

"rather broad" (Reath and Saunders), slightly wider than most (my plant)

Height:

33″ on my 8 year old plant
| | |
| --- | --- |
| Recommendation: | Collectors' plant |
| Availability: | Few nurseries specializing in woody peonies |