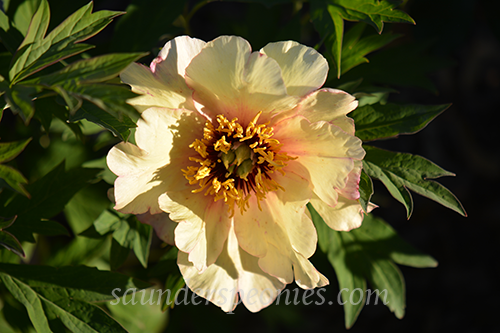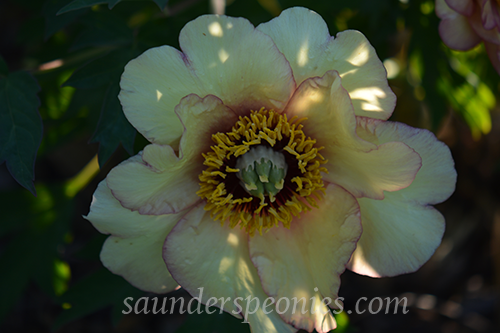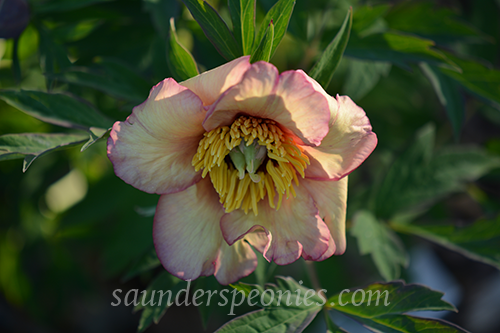 Saunders called 'Amber Moon' a "fine garden plant" in his catalogue. It has possibly been confused with 'Golden Vanitie' in the trade.  Distinctions are several: 'Amber Moon' has a slightly tawny cast particularly at the base of the petals, creamy white stigmas ('Golden Vanitie's are pink), and 'Amber Moon' has fewer petals.  'Amber Moon' is in the lineage of 'Terpsichore' (Daphnis, 1977). William Gratwick liked this plant.
I've been anxiously waiting for my plant to bloom and in 2022 I was rewarded by more than 6 flowers. However, each of them opened with variable amounts of pink on the petals.  Yes, the above photos are all from the same plant, and taken at the same time.  The pink coloration faded after a few days and the flowers then looked very similar to the one I photographed (on the right) at Longwood Gardens in 2017. I am guessing that the cool spring allowed more pink pigment to form.
With this much variation in petal color in the lutea hybrids, it is extremely important to also look at other characteristics such as the foliage and colors of the stigma, sheath, and filaments which show less variability. 
, 
Cultivar:

Amber Moon

Year:

1948

Seedling No:

16392

Group:

Roman Gold
Flower:

Color:

pale gold, small dark red flares, edged and flushed rosy

Form:

single, blooms are flat

Blooms:

Week 5

Carpels:

pale green, 3 to 5

Stigmas:

cream white

Sheath:

cream white

Stamens:

filaments are red

Plant:

Habit:

upright 

Foliage color:

medium green, no red

Foliage form:

average width or slightly more narrow than some

Height:

19″ on 3 year old plant
| | |
| --- | --- |
| Recommendation: | Recommended |
| Availability: | Rare |