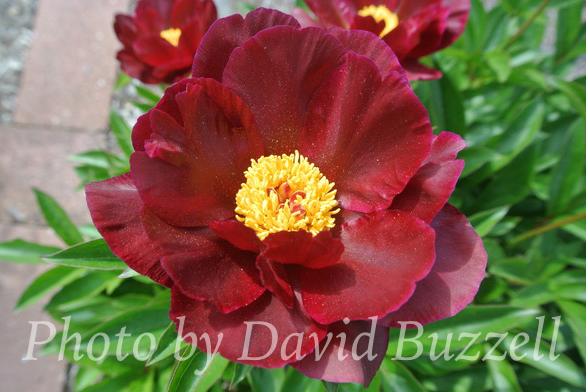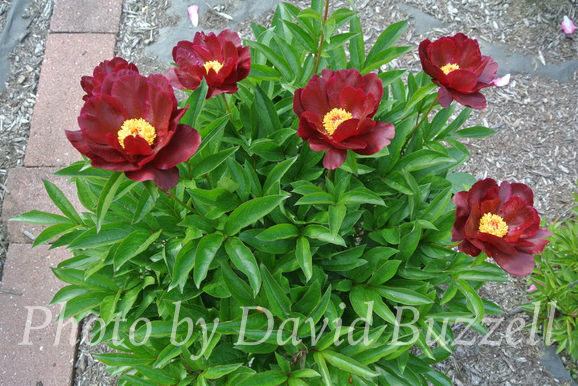 This is one of the few remaining introductions from the 'Challenger' series. ('Challenger' itself appears to be lost.)
The plant I received as 'Defender' is shown on the right but I realized some time ago that neither the flower color nor the filaments correspond to the description by Silvia Saunders.  A reader has now come to my rescue with photos of his plant. It appears to match the description.
I also noted that a bloom matching my incorrect one was shown at the 2022 American Peony Society's flower show in Ann Arbor, Michigan and also labeled as 'Defender', so be sure to check your plant to see if you have the right version. It is possible that the incorrect plant is one of the missing 'Challenger' series introductions but that would be difficult to ascertain. Stay tuned for further information.
Cultivar:

Defender

Year:

1929

Seedling No:

3453. Page 132 of Saunders' Notebook I

Parentage:

5: lactiflora 'Primavere' X officinalis crimson single
Flower:

Color:

described as mahogany red

Form:

single

Blooms:

Carpels:

Stigmas:

dark pink

Disc:

disc pale pink and white (Silvia Saunders' notes)

Stamens:

filaments pink (Silvia Saunders' notes)

Plant:

Habit:

upright bush

Foliage color:

medium green

Foliage form:

narrow

Height:
| | |
| --- | --- |
| Recommendation: | Collectors' plant |
| Availability: | Rare |