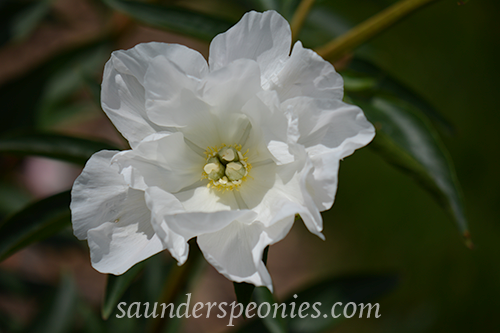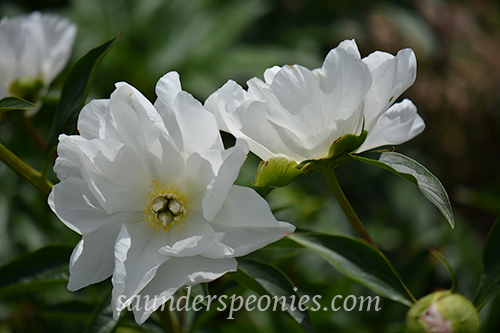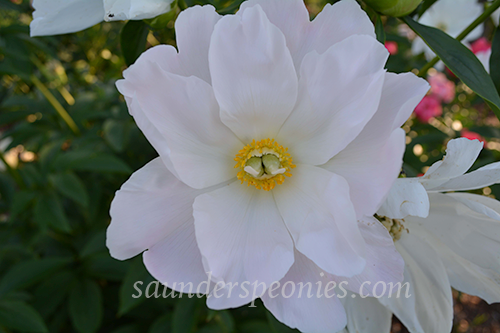 Didn't bloom in 2020, perhaps due to a late frost. I'd really looked forward to its blooms so I could have my picture taken with it to mimic an often-used (and perhaps last taken) photo of Professor Saunders with this peony in the garden of Grace Root.
This is a truly unique plant and the only Saunders cultivar resulting from a cross between P. lactiflora and P. emodi. Someone needs to make a pink one although perhaps it wouldn't have the sophistication of this purest of whites!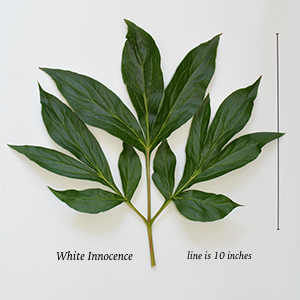 Cultivar:

White Innocence

Year:

1947

Seedling No:

14427. Page 19 of Saunders' Notebook I – notation by Silvia Saunders

Parentage:

3: lactiflora 1722 X emodi
Flower:

Color:

white

Form:

single, large open flat flower, multiple flowers per stem

Blooms:

Week 4-5 (based on 2017 bloom date)

Carpels:

2-4 or more, light green, glabrous, exhibits polycarpy

Stigmas:

white

Disc:

white, prominent

Stamens:

filaments yellow, very short, sparse anthers

Plant:

Habit:

upright

Foliage color:

medium green

Foliage form:

rather narrow leaves, terminal lobed

Height:

Up to 5′ in some reports; 46″ in 2021
| | |
| --- | --- |
| Recommendation: | Collector's plant |
| Availability: | Several specialty nurseries |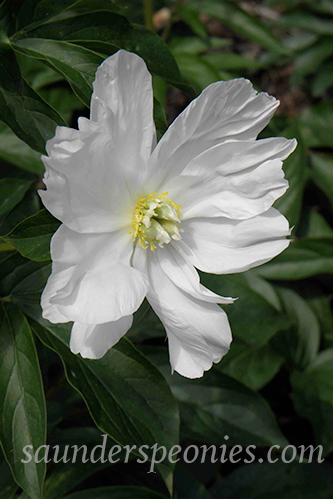 A bloom exhibiting polycarpy.