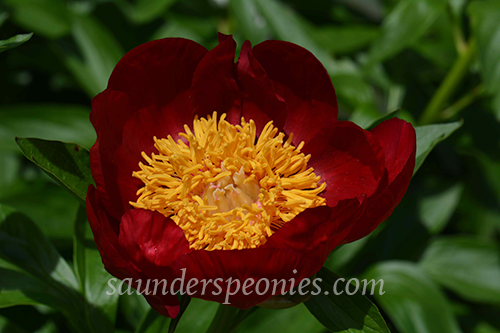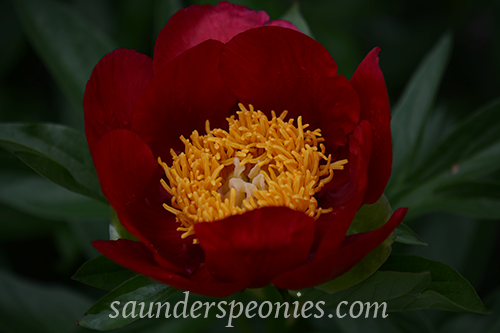 The plant is tall and the flower color is a deep pure red, which makes 'Patriot' an apt name.
I have also received this plant under the incorrect name of 'Good Cheer' and was able to identify the unknown by comparing the flowers and foliage. The discs are rather prominent and unique and helped in the identification.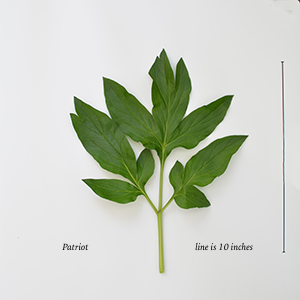 Cultivar:

Patriot

Year:

1943

Seedling No:

10739.

Parentage:

4: lactiflora X macrophylla
Flower:

Color:

deep red

Form:

single, 2 rows of petals

Blooms:

Week 4

Carpels:

4, light yellowish green, woolly

Stigmas:

white with splash of pink above style (unique coloration)

Disc:

white with pink edges, conspicuous

Stamens:

light yellow filaments, large number of stamens

Plant:

Habit:

upright spreading

Foliage color:

medium green

Foliage form:

narrow

Height:

36-38″ (reported), 40″ in 2021
| | |
| --- | --- |
| Recommendation: | Recommended |
| Availability: | Several specialty nurseries |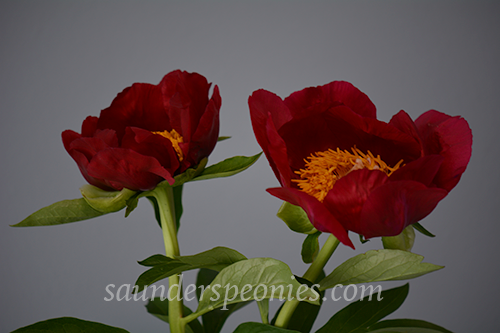 Comparing flowers from a correctly labeled 'Patriot' and an unknown.  It is easy to tell  you've received a wrongly labeled plant when it bears no resemblance to the description but I am only confident making an identification when I can compare the plants and flowers side by side.