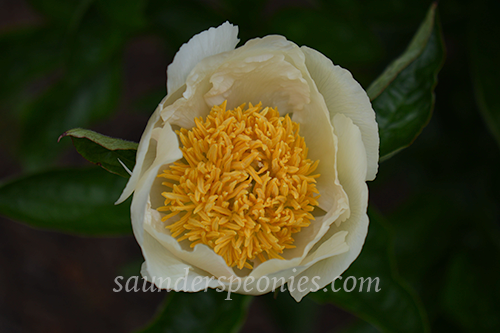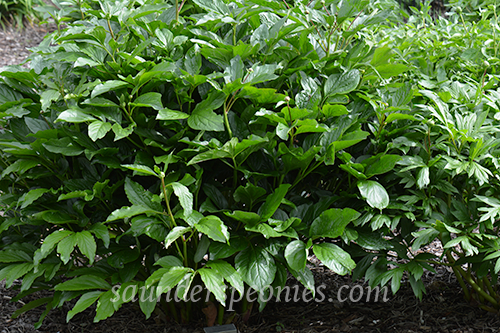 I've noticed several plants, 'Nova' and 'Prairie Moon' among them, show more yellow coloration in cooler climates than here in the Midwest. Even my mlokosewitschii could hardly be described as yellow.  The foliage shows its macrophylla heritage.  Formerly named Olga. Silvia Saunders commented it "sets seeds well".
There appear to be at least two versions of Nova, sometimes referred to as 'Nova I' and 'Nova II'.  Likely this is due to Nova's origin as a seed strain followed by certain nurseries selecting one and others selecting another plant as their standard 'Nova'. A more yellow cultivar is shown in the section "In Other Gardens".
'Nova' used to be carried by several nurseries, but at least one has recently discontinued this cultivar. 
Cultivar:

Nova

Year:

1950

Seedling No:

A strain, seedling numbers 16946-16958

Parentage:

17B: F2 of (mlokosewitschii X macrophylla)
Flower:

Color:

creamy white (listed as pale yellow by some)

Form:

single, 2 rows of petals, crinkled edges

Blooms:

Week 4

Carpels:

at least 2, green

Stigmas:
red

Disc:

white

Stamens:

yellow filaments, abundant stamens

Plant:

Habit:

upright 

Foliage color:

medium green, glossy

Foliage form:

large leaves

Height:

30″ (reported); 27″ in 2022
| | |
| --- | --- |
| Recommendation: | Recommended |
| Availability: | Few specialty nurseries |