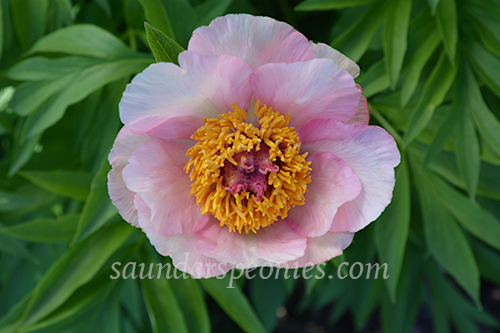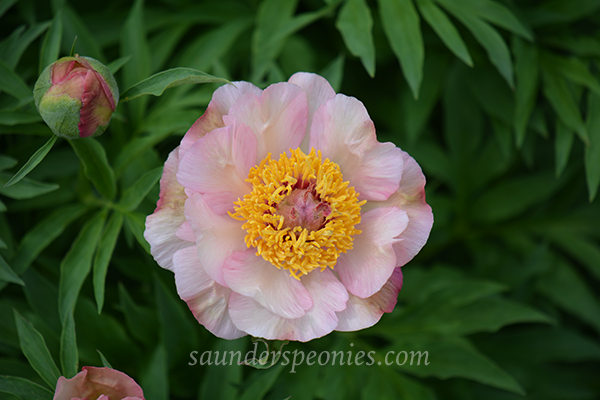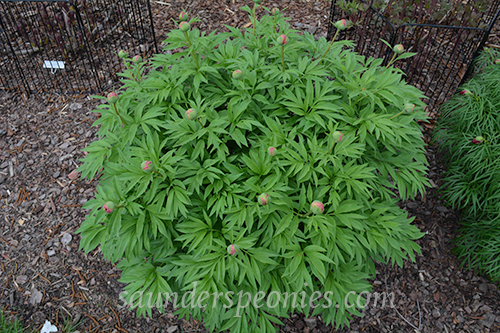 This is among the first of the Saunders peonies to bloom and it is always covered in many small flowers held just slightly above the very attractive foliage – such a welcome sight in early May here.  The flowers also clean off nicely.  It is being evaluated by the American Peony Society for an Award of Landscape Merit.
Every garden should have a 'Nosegay' peony!
Cultivar:

Nosegay

Year:

1950

Seedling No:

15502. Page 103 of Saunders' Notebook III

Parentage:

18B: F2 of 6939, a 'Playmate' strain (mlokosewitschii X tenuifolia)
Flower:

Color:

light salmon-pink, fades to white

Form:

single, 3 1/2″ flowers

Blooms:

Week 1 or 2

Carpels:

2-4, rosy, very woolly

Stigmas:

red

Disc:

creamy white, obscure

Stamens:

filaments wine-red at base, shading to white, short

Plant:

Habit:

rounded bush

Foliage color:

medium green

Foliage form:

finely divided leaves, lobed

Height:

30″ (reported), 29″ in 2022
| | |
| --- | --- |
| Recommendation: | Highly recommended |
| Availability: | Most specialty nurseries |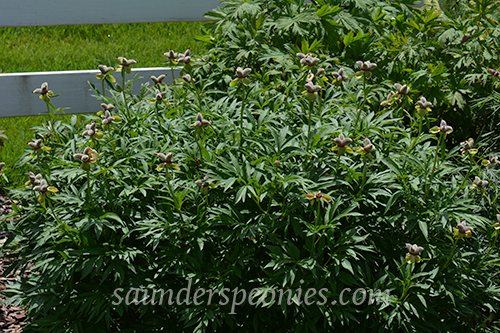 'Nosegay' after bloom.  Note how well the flowers clean off.  This is the type of plant deserving of an Award of Landscape Merit by the American Peony Society.