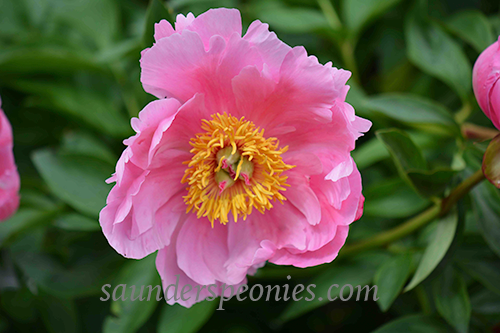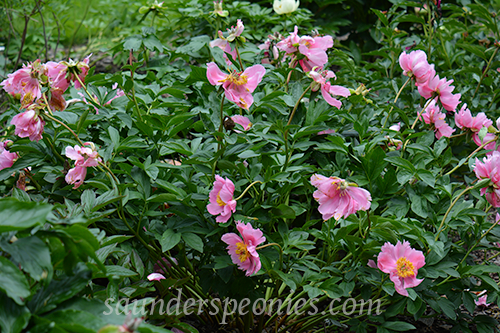 'Lotus Bloom' after a downpour.  Flowers were beaten down but the foliage remained upright.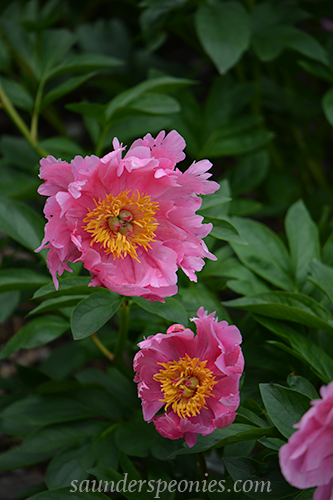 Silvia Saunders referred to the "exotic buds" of this peony, presumably due both to the fringed petals and white streaks.  There are several Saunders peonies (and newer ones like 'Pink Patterns') with a distinct white flare on the back of the unopened petals.  Always lovely!
I would almost describe the look of this flower as "flouncy" due to the fringed edges of the outermost petals. Truly a distinctive peony flower.
Cultivar:

Lotus Bloom

Year:

1943

Seedling No:

15092. Page 163 of Saunders' Notebook I

Parentage:

8A: 'Otto Froebel' X lactiflora
Flower:

Color:

bright pink with darker pink streaks throughout

Form:

single to semi-double, large flat bloom, with fringed edges

Blooms:

Week 4

Carpels:

3-4, medium green, glabrous

Stigmas:

bright dark pink

Disc:

white, obscure

Stamens:

filaments light yellow

Plant:

Habit:

upright bush

Foliage color:

medium green

Foliage form:

medium sized, pointed leaves, some notched, some curly stems in 2020, also in 2022 so may be typical

Height:

tall (reported); 34″ in 2021
| | |
| --- | --- |
| Recommendation: | Highly recommended, worth seeking out |
| Availability: | Few specialty nurseries |