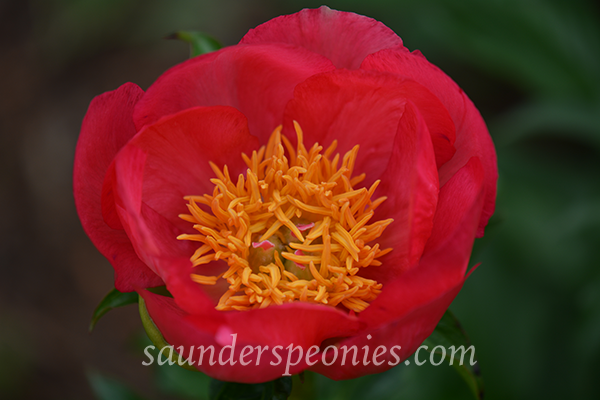 This peony was named for Julia Grant Dietz (1916 -2014), a great granddaughter of Ulysses S. Grant and granddaughter of Elihu Root. (Her parents were Edith Root Grant and Ulysses S. Grant III.) In addition to her connection to Hamilton College through her mother and maternal grandparents, she worked briefly for the college following her graduation from Bryn Mawr in 1938.  I recently learned from Julia Grant's son that the peony was named for her on the occasion of her 16th birthday.  Interestingly, according to Saunders' notebook, he named a lactiflora peony 'Edith Grant' but it was apparently never registered or introduced although he attempted at least one cross with it.
This plant consistently has somewhat crooked stems.
I recently realized that I originally uploaded a photo of a flower of Jean Cowley here instead of one of Julia Grant and have made the change. Now the photo matches Silvia Saunders' description more closely.  The plants were never mixed up in my garden, only the photos.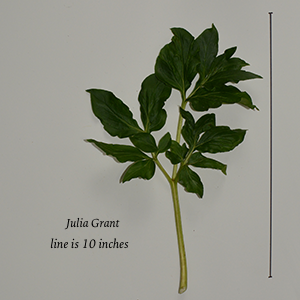 Cultivar:

Julia Grant

Year:

1939

Seedling No:

10059. Pages 22 & 37 of Saunders' Notebook I

Parentage:

7: lactiflora 2634 X "lobata of Perry"
Flower:

Color:

"matte coral pink" (Silvia Saunders' notebook)

Form:

single, 2 rows (Silvia Saunders stated about 16 petals)


Blooms:

Week 5

Carpels:

3, green, woolly

Stigmas:

bright pink 

Disc:

white

Stamens:

filaments are yellow

Plant:

Habit:

upright

Foliage color:

medium green

Foliage form:

wide leaves (Silvia Saunders' notebook)

Height:

35″ in 2021
| | |
| --- | --- |
| Recommendation: | Highly recommended  |
| Availability: | Rare. mine was obtained from a now-closed nursery |