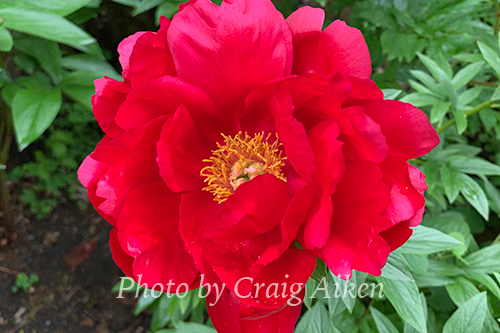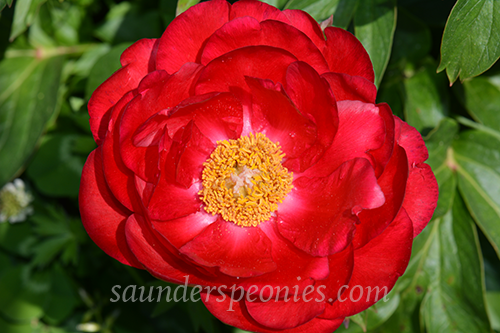 "I was hopeful that a plant I received as 'Great Lady' (not) might be 'Helen Matthews' but have now decided it is not.  These photos are of plants in friends' gardens.  
William Krekler received this plant as a Saunders seedling (no. number) and named it for his stepmother. Mr. George Peyton wrote that he believed it to be "the most beautiful of all peonies" (APS Bulletin No. 196, P.43, 1970) .  High praise indeed.
Perhaps in 2022, I will get the correct plant and be able to describe it more thoroughly.
Cultivar:

Helen Matthews

Year:

1953 (Saunders/Krekler)

Seedling No:

unknown

Parentage:

unknown but presumed to be a lactiflora X Lobata of Perry as Krekler received "lobata" seedlings from Saunders
Flower:

Color:

brilliant red

Form:

semi-double, cupped shape, very regular form

Blooms:

Week 4

Carpels:

3-4, light yellow green

Stigmas:

pale pink

Disc:

white

Stamens:

filaments light yellow (should be red)

Plant:

Habit:

upright

Foliage color:

medium green

Foliage form:

leaves are lobed

Height:
| | |
| --- | --- |
| Recommendation: | Highly recommended |
| Availability: | Several specialty nurseries |